...and i didn't realized it :p 
Stupid me! Wen i am thinking of traveling it's to Asia or the America's but not in my own backyard. Almost every weekend or free day I am traveling in my VW camper van trough out the country. Taking pictures of the national parks in the Netherlands or neighbor country's like Belgium and Germany. Thats a lot of traveling!
I think that's a nice topic to wright about. And now i am testing out the new layout and hosting of the travel feed blog so that's a great opportunity for a test. And the Netherlands are in lock down again so i can spend some time behind the pc! Curious about my van? it's in my previous post!  
National park Utrechtse Heuvelrug!
Starting close to home in national park Utrechtse heuvelrug, and close i meen real close... A 20 meters walk and i am in the woods.
The Utrechtse heuvelrug is a sand ridge in the landscape of the provinces of Utrecht and Noord-Holland. The long ridge (50 kilometers) is formed during the penultimate ice age about 150.000 years ago (one hundred and fifty thousand) a glacier from Scandinavia pushed a heap of sand and gravel ahead of it and formed The Utrechtse Heuvelrug. it has several 'peaks' above 50 meters. The highest point is Amerongseberg with 69.2 meters above sea level.


Yes a whooping 70 meters...(229 ft) :p And that's high for a country that is below sea level for the biggest part :p On the highest point they have landscaped this so called "sterren bos" (start forest) It was created around 1790 and originally has the shape of a spoked wheel with eight spokes. In the center of the forest is an open space where the solitary oak, a clearly solitary grown tree, stands. This oak was probably planted in 1792 during the planting of the star forest so its 228 years old!
(shot with my DJI Mavic pro) 

This part is the Amerongseberg and is just a small part of the national park. 
The Utrechtse Heuvelrug has a lot of forest and is free for hikers. There is also a mountainbike track trough these part of the woods but you have to by a permit for that.  It doesn't cost much and the money goes to the maintenance of the trail.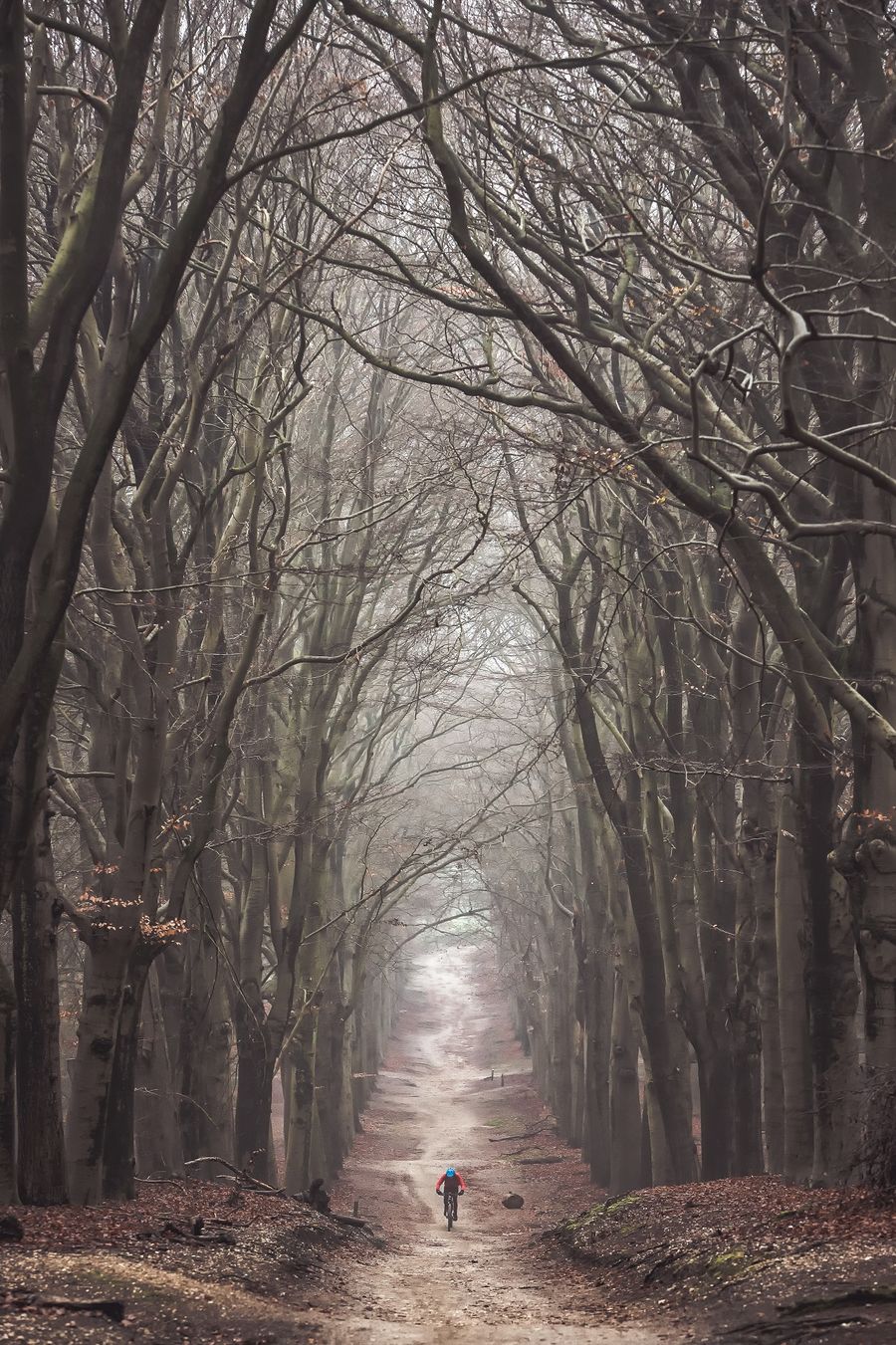 Because this is a "mountain" its a very popular bike trail and in the weekends it can be very busy! I took this picture early in the morning last Wednesday!

Tree lanes

In the forest there are a lot of tree lanes, the tree lined avenue with beech trees dates back to the eighteenth century and some of those trees are still there! 
From trainstation Veenendaal city take bus 50 to bus stop Amerongse berg.