Traveling in my VW camper van along the entire length of the Atlantic wall! 
The German coastal defense line build in the second world war! From the far north of Norway till the most Southern part of the wall in France! But first...
Mental health...! Story time!
It's some kind of a secret but now it's time to "get my story out there" I am struggling with my mental health for the past 5 years now. I got burn-out for the first time December 2016 and the second time at the end of 2017 which eventually resulted in a depression! 
It all started in 2012 when my father in law was hit by a truck while he was riding his bike! He passed away after he was rushed to the hospital! It was a terrible accident and it hit us hard that we couldn't say goodbye! From that day on I just spend all my time on my family in law. Helping out with everything, from the funeral until the case was settled in court a year later! After that lots of family members struggled with the loss and i was there to help them. Eventually those struggles also cost us our relationship! This in a nutshell!
During that time at work I discovered that fraud was being committed, something I distanced myself from! Because my mind was at my struggles at home I let it go and went on! But this was also not good for my mental health! And when I got sick the first time they took advantage of that and tried to get rid of me, work me out of the company! Unfortunately for them, we have good protection for employees in the Netherlands and the dispute had to be settled in the courtroom. Another big hit on my mental health. After that lawsuit at the beginning of 2019, my mental health kept getting worse, I did win the lawsuit but I was really broken down and eventually that resulted in depression. I didn't have many people around me who were able to help me and also a couple of friends stabbed me in back during this process and that was the one thing that literally destroyed! That was the beginning of a long depression! 
Recovery! 
In addition to the professional help I got, I spend most of my recovery outside in nature, alone with my camera gear. Enjoining the silence of nature around me and soon I discovered I was good at taking nice pictures! 
One day when I was discovering the northern coast of France during a road trip in my VW van, I was standing on the pier of the famous historical WWII location in Dunkirk and looking at the waves of the North sea, thinking about the soldiers who were standing there 75 years ago, waiting to be rescued, constantly under threat of the Germans!
Those waves I was looking at had so many stories to tell! They had seen so much drama, dead and blood that a lot of my problems looked like peanuts! There I decided to make a photographic series in memory of those who fought in WWII and who died for our freedom who also where staring in the water, waiting for their freedom!  
That freedom we have for more than 75 years now! That freedom that we often take for granted! That freedom that we couldn't celebrate last year because of pandemic! Al the festivity's they had planned and all those celebrations and memorial gatherings were cancelled! That made me realize that the freedom we have we take for granted and we almost forgetting that there are a lot of men who have died for it! I have to say boys because that is what they were, some barely 18 years of age!
My project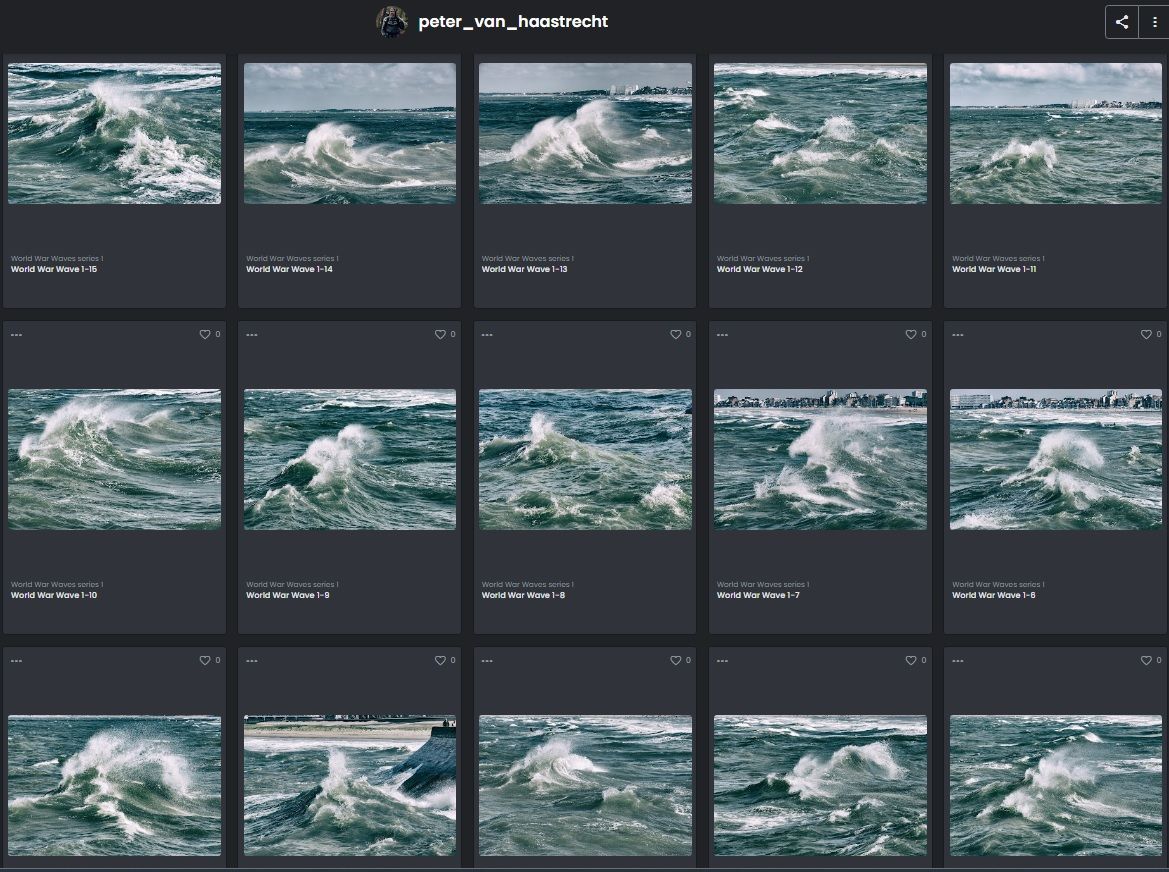 And what better way to offer a new project in a new way! As NFT's. I  was thinking about NFT's for a while now and how it's going to impact the photographing community. And also how I can do something with it! My first series are about the waves of Dunkirk! Then I will have a start to make the series about other places around the theme of WWII and especially the Atlantic Wall and D-Day! Maybe I go another way at other locations but this just made sense to me! 
And I hope that the creation of this first series will help me create more series along the whole of the Atlantic wall and maybe even to make a book out of this project! 
That Atlantic wall starts way above in the northern part of Scandinavia and ends down it the southern point of France! I eventually I want to drive along the entire Atlantic wall with my camper and camera and visit all the historical and photogenic locations and tell you its stories and to show you the beauty of these places now a day's, hoping to capture the freedom that we have now!